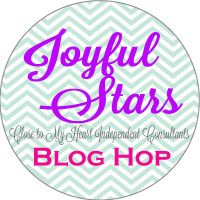 Welcome to the monthly Joyful Stars blog hop. We're so glad you and join us for our monthly blog. Please follow us every month on the 10th and get inspired by all the great artwork we are creating. Don't miss next month when we can share what's new in our 2016-2017 Annual Catalog. I'm busy working on NEW products and it was really hard for me not to show you.
The catalog goes live on August 1st with our NEW Holiday Expressions going live September 1st. You are in for a treat. I hope this blog inspires you to create and share your paper crafting with others.
My post for this month is what I made for my team that went to convention in Florida, Disney.
Enjoy the blog, here is a list of this month's blogger, so hop over to a very talented
Andrea's
blog and see what she has to share, keep hopping until you get back here.
Joyce Houck
Joyce-joyfulcreations.blogspot.com